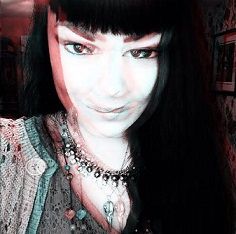 Prone to bouts of fluffyness and sadomasochism.
"The sweetness was turned to adamantine, heartless cruelty, and the purity to voluptuous wantonness." - Bram Stoker
25 year old Slytherin from the UK. Dark Mori waif.
House Bolton : Our blades are sharp.
The Noble and Most Ancient House of Black: Toujours Purs.
Fantasy. Horror. Mythology & Folklore. Bloodlust. Pantheistic Paganism. I am both the doe and the wolf. Nosebleeds & scabbed knees. Idealist turned bitter cynic. Child of forest and water. Corrupted innocence. ASOIAF. Creepyshipping.
Bellatrix Lestrange & Thranduil Oropherion & Ramsay Bolton & Euron Greyjoy & Hannibal Lecter & Luna Lovegood & Arya Stark & Nuada Silverlance
"Love, love, love -- all the wretched cant of it, masking egotism, lust, masochism, fantasy under a mythology of sentimental postures, a welter of self-induced miseries and joys, blinding and masking the essential personalities in the frozen gestures of courtship, in the kissing and the dating and the desire, the compliments and the quarrels which vivify its barrenness." ~ Germaine Greer